Benefits
USPA guarantees interesting prospects for media professionals
An international press pass from the United States Press Agency (USPA) offers first-class opportunities, whether you are a newcomer or media expert.
Being a journalist is the ultimate dream job. Thanks to the rapid development of the Internet, living this dream has become surprisingly easy even for people with no prior media experience. Very few editorial offices work exclusively with salaried employees. On the contrary! Editorial offices are increasingly taking advantage of the resources freelance journalists have to offer. For one thing, salaried employees are costly. However, freelancers often also bring a fresh perspective to the job, attracting new readers.

Have you been hesitant to apply for job offers posted by an editorial office? Maybe you didn´t think you would stand much of a chance against the multitude of highly qualified applicants. Or maybe you were simply discouraged because breaking into this sector has always been difficult without a recognized university degree.
Today, even people entering the profession without prior experience face great conditions for starting this new career. In fact, you may significantly boost the success of your entry into this career field! A USPA membership doesn´t just get you a recognized press pass but also the support you need for a successful start.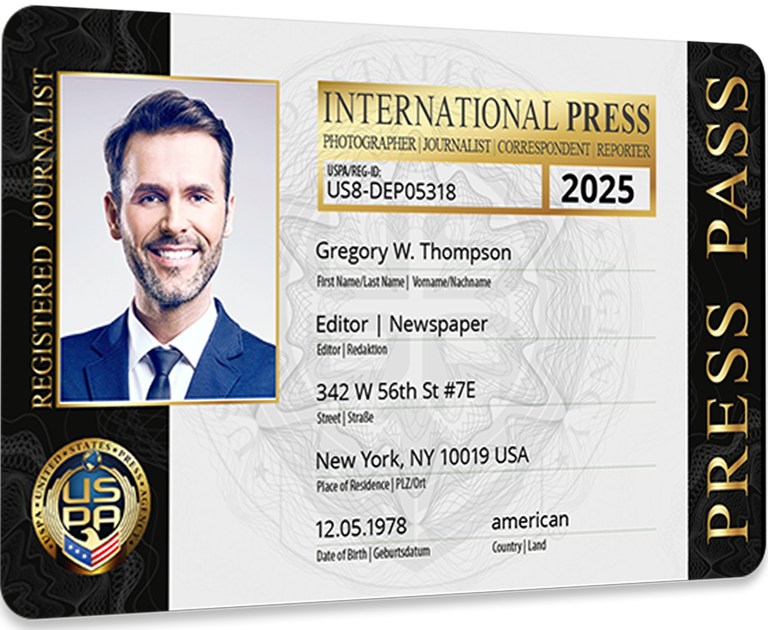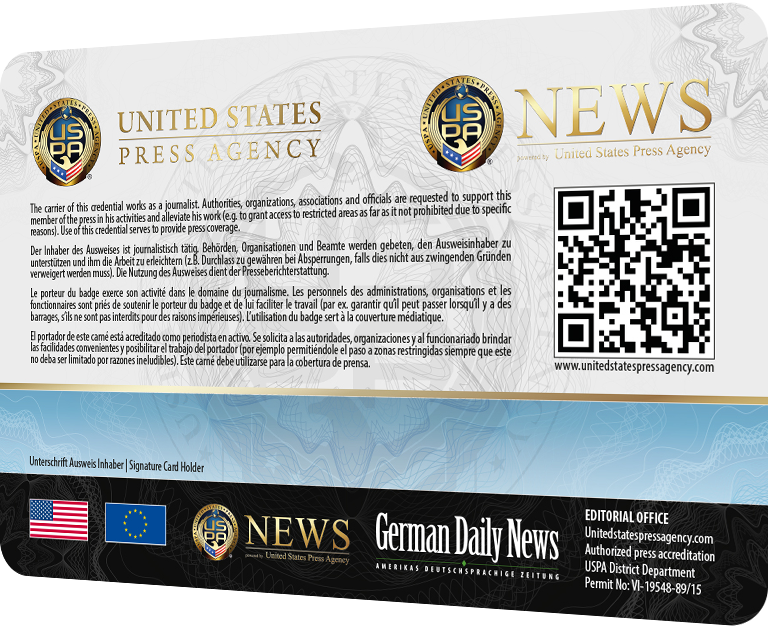 An international press pass is not just for show - it opens doors for you to enter the media profession without any problems. If you are committed to the modern zeitgeist, know the importance of high quality, reliable and thorough background research and approach people with open curiosity, you have come to the right place! USPA will happily stand by your side as you enter the press and media world, even if you come from a non-traditional background and plan on working only part time.
You can expect a lucrative and interesting job in which you may invest all your journalistic passion. We are also here to help if you simply want to create a second source of income through journalism. You will receive a recognized press pass and valuable resources that will help you get started on your new career path.
Members in more than 25 countries are already using the international press pass from USPA! Become a part of our community and take advantage of numerous benefits!
International press pass

Press pass may be used anywhere in the world right away

Press vehicle ID

Reporter Card

Letter of accreditation

Direct association with a US press agency

No association membership!

Greater respect thanks to evidence of your journalistic work
Numerous text and image portals to help you market yourself

Helping you secure assignments through our partners

Extensive lobbying efforts in Europe and the USA

Download area with work tools, tips and tricks

Special concessions for members of the press

Networking

Extensive exchange of experience
You see, the opportunities are abundant! An international press pass doesn´t just offer benefits when you do your research. A press pass also gives journalists access to significant discounts when buying or using services. For example, an international press pass gets you free admission to trade shows and events, discounts on newspapers and magazines, and more favorable conditions when going on vacation or buying a car.
We welcome all full-time or part-time journalists, experts and media professionals from press-related fields. A press pass is available for
journalistic writers and authors

publishers

contributing editors

photojournalists

stage directors

correspondents

press agents
information services providers

editorial staffers

radio reporters

camera teams

PR spokespersons

film critics

editorial bloggers
Our annual membership fee of just USD 48 is fair and affordable - while offering a full range of benefits! The international press pass is included! The United States Press Agency (USPA), which was founded in 2006, is an experienced partner at your side that´s respected around the globe.
Become a member of USPA, a modern, service-oriented agency. We support the interests of our members in all areas and help them achieve professional success.
USPA has one of the highest member satisfaction rates among press agencies - find out more about us and reserve your press pass today!