Letter of accreditation
A letter of accreditation from the United States Press Agency (USPA) is a supplementary document to the standard press pass that can make your job as a journalist even easier. In some cases, it may even be required in order for you to pursue your work. A letter of accreditation allows event organizers and agencies to verify your status as a member of the news media, which is helpful when you seek access to private areas and press conferences or want to take photographs at special events. Members of the media who are able to present a letter of accreditation may only be hindered in their journalistic practice in the face of compelling reasons or undue, unacceptable risks.

Obtaining a Letter of accreditation form USPA
In addition to a press pass, registered members receive a letter of accreditation from us. There is no additional charge for a letter of accreditation besides the annual registration fee for your USPA membership. Each member will receive one free letter of accreditation, which specifies the journalistic area of focus, or beat, of the member. You cannot select multiple beats at a time. If you need additional letters of accreditation, you may request them at any time for a small additional fee.
A letter of accreditation from USPA identifies you as a USPA journalist. It provides proof of your association with USPA and states the focus of your reporting, guaranteeing unhindered practice of your journalistic work in most cases.
Characteristics of the confirmation: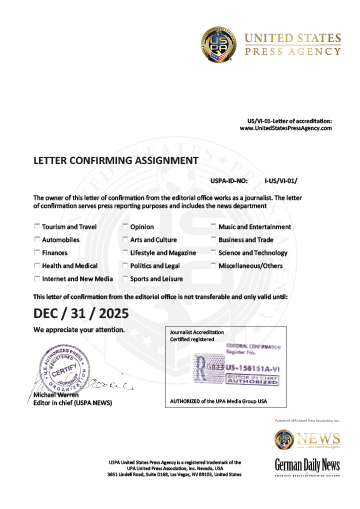 Agency letterhead-related design

Includes imprinted seal

Signed by Editor-in-Chief

Accreditation and editorial seals

Personalized and non-transferable

Useful for many purposes

Original paper copy

Format approx. 8.27 inch x 11.65 inch (21 x 29.60 cm)
Becoming a member of USPA
Take advantage of our online registration system or download a registration form that can be sent to us via postal mail or fax. Making your journalistic work easier is faster than you thought. In addition to a press pass and a letter of confirmation from the editorial office, you may look forward to other free benefits with your USPA membership!