Reporter Card (Press ID Card)
The Press ID Card (Reporter Card) is among the most important documents for your journalistic work. It allows you to identify yourself as an editorial staff member at various events and helps assert your right to information. The Press ID Card (Reporter Card) documents your occupation as a journalist, eliminating any need for independent verification of your identity or the extent of your journalistic practice. Both for you and event organizers, a Press ID Card (Reporter Card) provides readily available, worry-free proof of your occupation.

Obtaining a USPA Press ID Card (Reporter Card)
As a member of USPA, you will automatically be issued a Press ID Card (Reporter Card). The card is the size of a credit card and can be carried with you at all times. It also includes the name of your primary journalistic beat. The main advantages offered by the Press ID Card (Reporter Card) are unhindered research of topics within your beat as well as access to blocked-off areas reserved for members of the press. In addition, presenting your Press ID Card (Reporter Card) gives you access to attractive discounts from numerous service providers, e.g. when renting a car or concluding your next cell phone contract.
Press ID Card (Reporter Card) front side: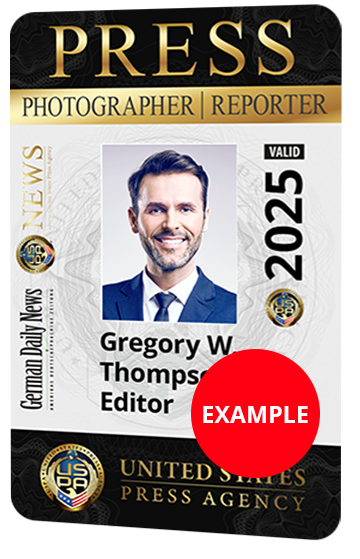 Photographer/Reporter

International, authorized version

Forgery-proof, in check card format

Clearly valid for the current calendar year

Clearly lists name, job title and press medium

Color gradient protects against forgery

USPA collaboration partner logos

High-quality print, in credit card quality
Editorial ID Card (reverse):
Statement of correspondent status

Multi-language version

USPA contact information and sign

Check number and protection against forgery

Registered identification number

QR bar code registration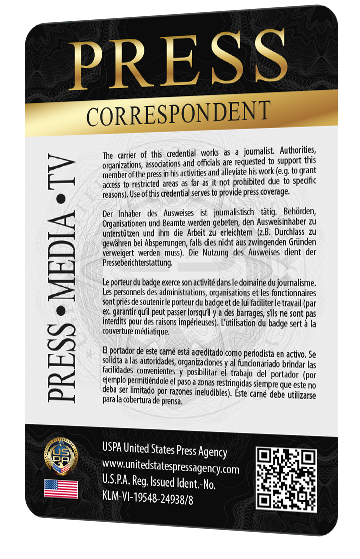 Numerous benefits also available for part-time journalists
Your Reporter Card is issued free of charge and is part of our comprehensive total package, no matter if you are a full-time or part-time journalist. To maintain your membership with USPA, simply keep paying the annual fee of USD 48.00. Your personal Reporter Card will be issued as soon as your registration with our press agency is complete and you have informed us of your beat of choice. You will hardly find a more affordable way to enjoy the same benefits as well-established editorial staffers and present yourself with confidence when you´re dealing with agencies, event organizers or the police, particularly if you are a part-time reporter. For more information about your press pass, do not hesitate to contact us before completing your registration. Information about the particular benefits for press pass carriers in Germany is also available from our national headquarters upon request.