Press vehicle ID for your car
Driving is a big part of a journalist´s day-to-day research routine, and many places charge expensive parking fees. What´s more, empty parking spots in a desired location are hard to come by in big cities and at many events, making it tempting to leave your car in a no-parking zone. This makes a press vehicle ID for the car an invaluable companion for all journalists, who can save themselves the hassle of searching for a free spot as well as hundreds of euros each year.
As a member of USPA, you will receive a certified press vehicle ID for your car along with your globally recognized, personal press pass, at no additional cost. The sign allows you to use parking areas reserved for members of the media at no cost while offering numerous advantages during the every-day hunt for a parking spot.

Journalists are held in high regard in many cities, and in an effort to foster a positive image of the city, officials frequently turn a blind eye when the car of a media professional is parked in a no-parking zone or doesn´t display a valid parking ticket. Large cities with numerous different media outlets seem particularly willing to concede such special privileges to members of the press. Of course, this doesn´t mean you´re always going to be exempt from punishment, but in many cases, this helps save time and effort. Irrespective of the possibilities offered by a USPA press vehicle ID, this sign should only be used in accordance with the valid traffic regulations. This means that you may only display the sign if a trip is related to your journalistic work. The most important purpose of the sign is to help you get through public areas that have been blocked off. Acting responsibly is essential to ensure you are using your car press sign appropriately.
Certified USPA Press Vehicle ID: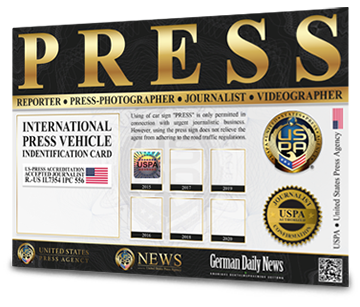 Approved certified press stamp

USPA press seal

Logos of collaborating partners

Registered ID no.

Certified license plate number

Sealed rigid laminate

Forgery-proof

hologram annual stamp

Format approx. 5.83 inch x 8.27 inch